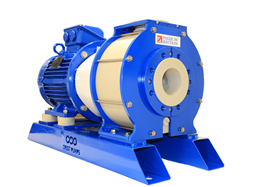 Crest Pumps has launched a new range based on its long-established ECC series. The EOV corrosion resistant pump range features a radically redesigned volute casing and impeller with an improved vane design that Crest says improves efficiencies by up to 35%.
It adds that flow rates and discharge pressures have been increased while power consumption has been cut by 15% to reduce running costs.
The open impeller design allows for some passage of solids while the improved hydraulic design ensures excellent performance in low NPSH applications as well as minimal mechanical vibration ensuring a longer life between service intervals.
The EOV is designed to be as corrosion resistant to chemicals as possible making it suited for a wide variety of purposes. Manufactured by Crest Pumps in the UK, the EOV range is can also be tailored to the bespoke requirements of the customer.